At Lippert, we are proud to work with over 35 qualified and experienced music teachers!
Our instructors are all professional musicians with post-secondary degrees in music and education, as well as Royal Conservatory of Music accreditation. Our teachers offer music lessons in guitar, piano, voice, strings, woodwinds, brass, and more. They are the heart of our school and are the dedicated individuals who have contributed to the success of our music school since 1957.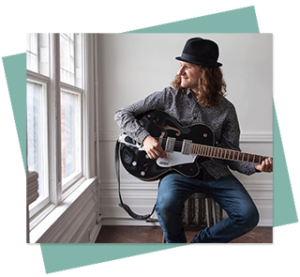 Sam Taylor | guitar • voice • bass • composition • recording
A young Canadian talent, Taylor's career began at a very early age. Born and raised in St. Thomas, Ontario, Taylor started singing and performing live at the tender age of seven. Think Bobby Darin or Frank Sinatra, complete with fedora….at seven! His career escalated quickly and by the age of nine he was performing with Orchestra London. At twelve he recorded his first single, Smile, and was winning local talent shows (even placing ahead of Justin Bieber occasionally.) During his Fanshawe College years, Taylor wrote the song Loaded Gun which was picked up by the DeGrassi series.
"More"
After graduating he relocated to Toronto in 2011 and hasn't looked back. He performs his "new blues" with his Toronto band The East End Love and as a solo artist, in clubs across the Greater Toronto Area including the famed Hugh's Room Live, Cherry Cola's and the Hard Rock Cafe. He has also had many opportunities to perform with classic artists such as Robbie Lane and The Disciples, members of Crowbar and even the late Bobby Curtola. Taylor recently opened for Maple Blues Guitarist of The Year David Gogo and has shared a stage with Toney Springer, Jerome Godboo, Greg Godovitz, Gordon Lightfoot, David Wilcox and many others. Taylor released his first EP, The Sound in February of 2016 and his first full-length album, What You Heard, recorded in a single day, in June 2016. A frequent live performer on Zoomer Radio 96.7AM, Taylor connects to audiences with his sense of humor and sincerity, both in person and through the airwaves. His music comes from the heart and you feel it with every note he plays. Sam's objective as a teacher at Lippert is to pass on knowledge to students in a fresh and fun environment. While specializing in blues, rock and pop, Sam will do his best to adapt to any student's individual needs and learning style.
"Close"