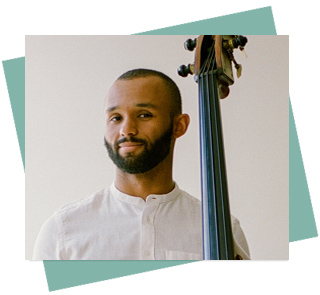 Brandon Davis | double bass • electric bass • guitar • ukulele • piano • theory
Brandon Davis is a Toronto-based bassist, composer and educator. He holds a Masters in Music from the Manhattan School of Music. He attended the Jazz Performance program as an upright bass major, and was on the Dean's List for all four semesters of his studies. He primarily plays and teaches upright bass and improvisation, but also offers lessons in electric bass, guitar, and beginner ukulele and piano.
As a performer, Brandon has experience playing in jazz, folk, and classical settings all throughout Toronto and New York, including notable venues such as the Rex in Toronto, and the 55 Bar in New York. Brandon's goal as a teacher is to foster a strong and healthy foundation, so that students are well equipped to pursue and explore music as they desire. Lessons focus on developing core skills, such as music literacy and a healthy, proficient technique, and on fostering a healthy learning process – one that ensures that music is not just fun, but a rewarding, joy-filled process of discovery for a student. He believes that it is easy to focus on producing results and treating music competitively, but from his own studies, has found that it is vital to be able to enjoy the process of learning, for the sake of keeping that original joy for music alive and well. He hopes to spare students the years it has taken him to learn these lessons. To this end, lesson materials are chosen specifically for each student, to best cater to their strengths, weaknesses, and musical tastes and goals. He is an attentive teacher, ensuring that students are working on music that engages them, and is always working to discern a pace that encourages and gently challenges students. Brandon has recently moved back to Toronto after spending some time teaching and performing in New York City. He is a member of the Suzuki Association for the Americas and has completed teacher training for Suzuki Bass Book 2 with Virginia Dixon. Brandon joined Lippert's in January 2018.
< Return to Full Staff Directory
Why wait? Sign up today for the best music lessons in East York!
Still unsure? Contact Us with any questions.