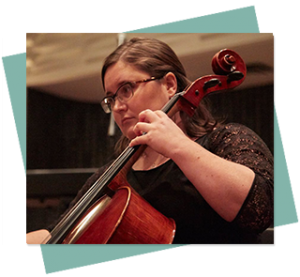 Sarah Steeves | cello • piano • theory
Sarah has been a part of the Lippert Music Centre community since 2009. Originally from Strathmore, Alberta, Sarah currently resides in Toronto where she performs with Sinfonia Toronto and the Ton Beau String Quartet. As a member of the TBSQ, Sarah has participated in residencies and programs at the Arts & Letters Club, the Banff Centre, Stanford University and Wilfrid Laurier University. She has also performed with the Banff Summer Festival Orchestra, Britten Pears Orchestra, Jeunesses Musicales World Orchestra, National Youth Orchestra of Canada, Orchestra London the Sudbury Symphony Orchestra and the Youth Orchestra of the Americas touring countries including Canada, China, Germany, Mexico, New Zealand, Spain, the United Kingdom and the USA.
Currently pursuing her doctoral studies at the University of Toronto with Shauna Rolston, she completed her Masters in Music at McGill University with Brian Manker. As a registered Suzuki teacher, Sarah has received training at the Alberta Suzuki Strings Institute, the Chicago Suzuki Institute and the Royal Conservatory. As a teacher internationally, Sarah is participating in the 2013-14 Youth Orchestra of the Americas Global Leaders program and in 2010 coached at Brazil's Neojibá project.
< Return to Full Staff Directory
Why wait? Sign up today for the best music lessons in East York!
Still unsure? Contact Us with any questions.