MUSIC CREATION CAMP FOR AGES 6 -13 – ONLINE
For students ages 6 -13 (age appropriate groupings)
One year private music study required
Two week camp (6 classes) – July 6-8, 13-15 (Tuesday, Wednesday & Thursday)
50 minute online class starts at 11 am or 3 pm (times may be subject to change due to enrolment).
This course is geared toward nurturing music creativity in young minds. Creativity is a natural way in which we express ourselves and it is unique to each individual. Students will learn how to express themselves through a music composition. We will listen to compositions from the classical music repertoire, create a concept for their own composition (story, poem, drawing the illustration), learn how to use musical elements to express emotions and/or tell a story, create a composition and perform their composition in class.
* Required material: instrument (any kind), music dictation book or staff paper, drawing paper, coloured pencils
* Fun homework
COST: $150, Book by June 8th and save $30!
---
The School of Hard Rock ONLINE Summer Camp
Join us online for this camp Monday to Friday 10am – 2 pm. Perform, write and create music. 2nd year of online School of Hard Rock Camp.
Two Years of experience for instrumentalists and no experience for vocalists. Ages 9 to 17.
Week of July 5 or July 12
1 week just $275
---
Spring Tune Up!
Calling all Jazz Enthusiasts!
Workshop Classes with Mike Wark
Mondays and Thursdays
7:00 – 7:50 PM
May 31 to June 11
4 classes
SAVE $20 if booked by May 28.
Regular $120, now just $100
3 years experience required. Learn about how to improvise better.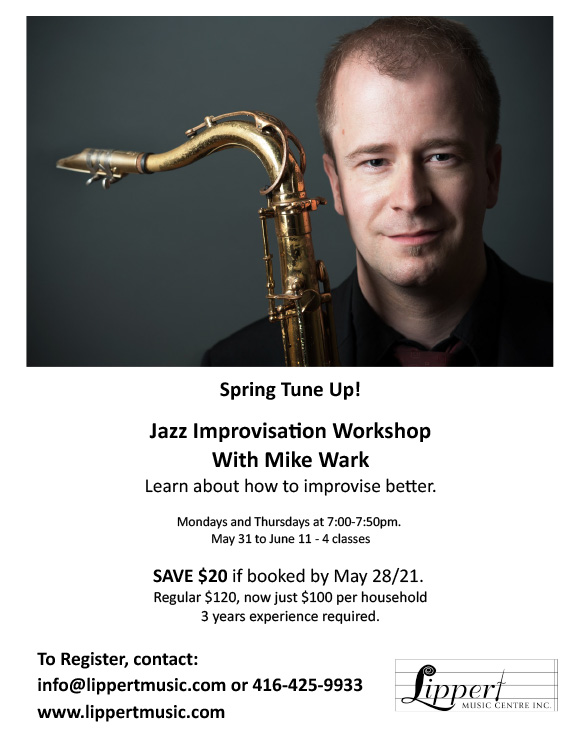 ---
NEW! Discovering Composers Series:
Part 3 – The Evolution of the Orchestra (for adults)
NEW COURSE BY IVANA POPOVIC – 4 weeks online
Wednesdays at 7:30 pm – 45 minutes
(May 19, 26 & June 2, 9)
Bring your favourite beverages and/or snacks and join us on online from the comfort of your home. A gift to yourself, friends, family or loved ones – ADULTS ONLY.
NO MUSICAL EXPERIENCE REQUIRED.
$120 per household
$20 discount for registering by May 17th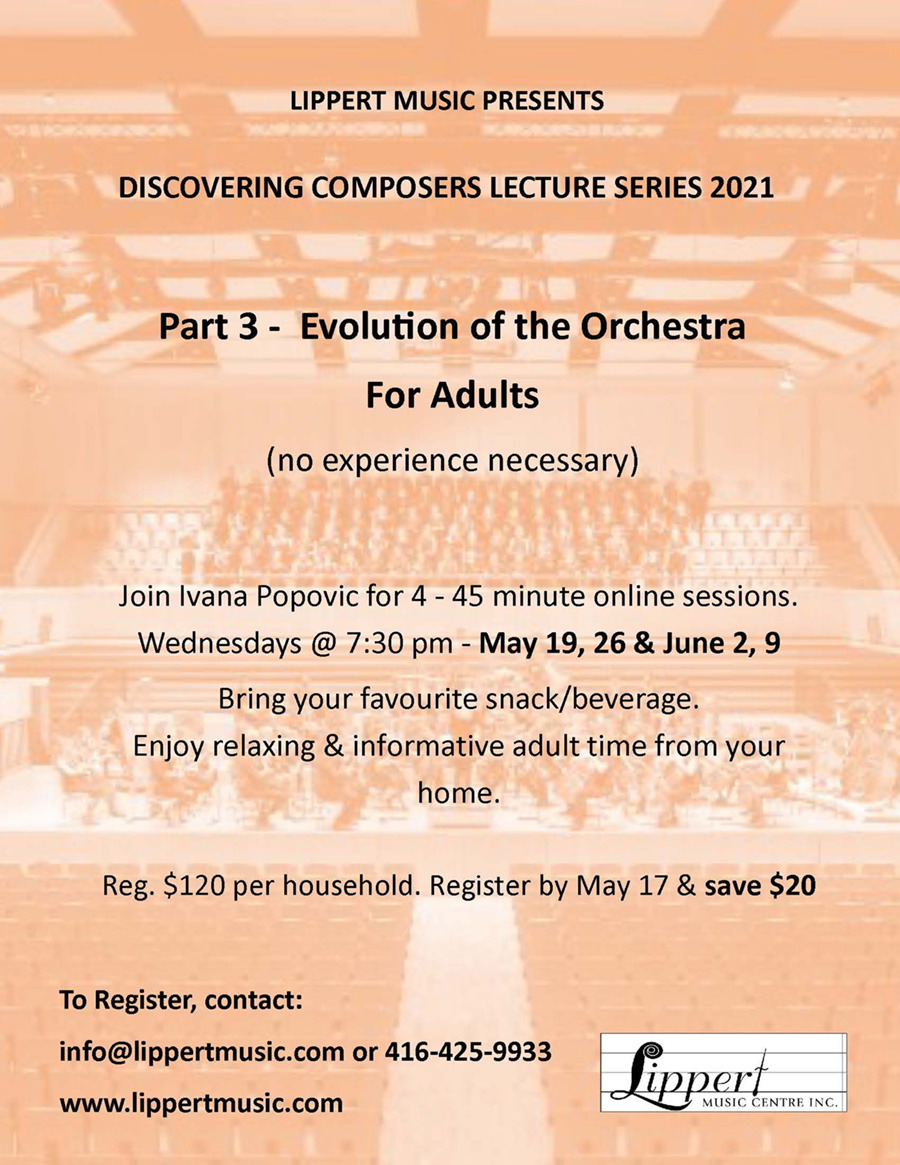 ---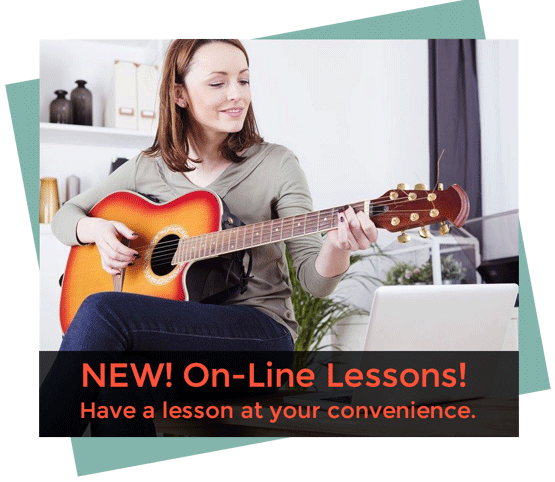 All in-person group classes are cancelled until further notice for 2020-21.
---
Make friends, save money, and enjoy the same quality music lessons with summer music camps and group music lessons at Lippert!
Students who enrol in group music lessons and summer music camps enjoy all of the benefits of a group learning environment including improved social skills, knowledge retention, and increased self-esteem! We offer several group courses throughout the school year as well as our electrifyingly fun School of Hard Rock summer camp.
We offer the following in-person group classes during our normal operations. (These are currently on hold due to the COVID-19 pandemic):
Ukulele Class
Song Writing
Jazz Band (adults 18+)
Audio Recording
Pop, Rock and Blues Voice
Bass Guitar Group
School of Hard Rock
Adult Rock Band