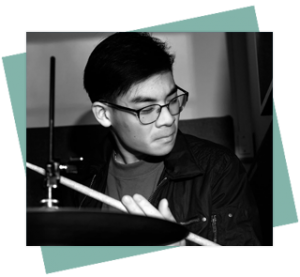 Evan Ng | drums • piano
Evan is an award winning multi-instrumentalist originally from Vancouver, BC and finished with a Bachelor of Music Performance in the Jazz program at the University of Toronto. In 2015, he completed his Grade 10 Practical Piano Exam in with Honours from The Royal Conservatory of Music (RCM) under the guidance of his piano teacher, Carrie Leung and is an accomplished jazz drummer who has studied under Jessie Cahill, Ernesto Cervini, Nick Fraser, and Ethan Ardelli. Evan was the recipient of the 2017 TD High School Intensive Scholarship from the Vancouver TD International Jazz Festival. Evan performed in a jazz quartet that scored the highest on a combination of video submission and live performance, and took home the top prize at the 2019 Jazz Sudbury Emerging Artist Showcase competition in May.
Evan is also self-taught guitarist and an independent music producer at heart in the neo-classical, hip-hop, lo-fi, indie acoustic-pop music genres, as he has produced songs and tunes for podcasts, films, and documentaries, with one of his latest works being showcased as the soundtrack to the mobile game, "Doteos" for Apple and Android devices.
As a music teacher, Evan strongly believes that getting to know the student and meeting the student's needs are as equally important as teaching the fundamentals of music with the intention of musical enjoyment. He teaches his students how to develop rudimentary skills, discover efficient practice methods and feel rhythm/sense of time through prescribing personalized exercises and drills on their instrument. He is also opened to help students, if interested, learn how to use and work a DAW (Digital Audio Workstation, eg Garageband, Logic Pro X, Ableton, etc), teaching the basics of how to produce, record, mix, and master music.
< Return to Full Staff Directory
Why wait? Sign up today for the best music lessons in East York!
Still unsure? Contact Us with any questions.