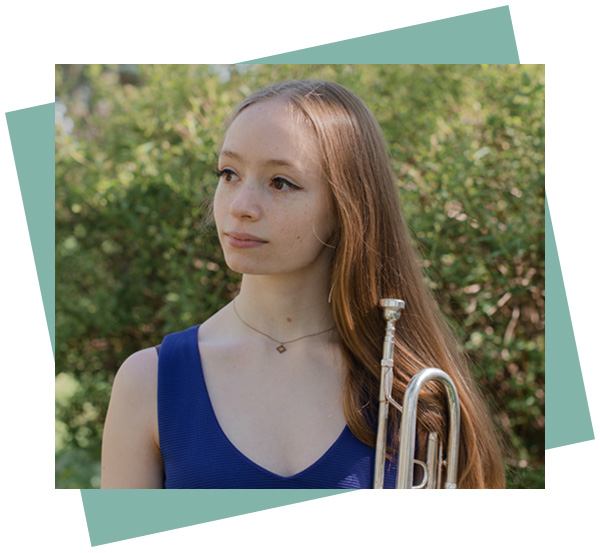 Charlotte McIntosh | piano • trumpet
Charlotte McIntosh is a trumpet player and music educator based in Toronto. She is currently pursuing an Advanced Certificate in Performance at the University of Toronto, where she studies with Anita McAlister. Charlotte is an active performer in the Greater Toronto Area, playing in symphony orchestras, brass bands, musical theatre productions, new music concerts, and with chamber groups. She has played with orchestras such as the Ontario Philharmonic, the Casa Loma Symphony Orchestra, the University of Toronto Symphony Orchestra, and the Kindred Spirits Orchestra, to name a few. She is also a member of the solo cornet sections of the Weston Silver Band, and the Hannaford Youth Band. Charlotte is a founding member of Green Room Sound Collective, a group of composers and performers dedicated to premiering new music. Charlotte holds a Bachelor of Music Education degree from the University of Toronto (2022), where she studied with Steven Woomert and Barton Woomert, among many fabulous musicians. So far in her studies, she has received ten scholarships, including the prestigious Geoffrey E. Norton Memorial Scholarship, most recently. Charlotte's love of learning and adventure have twice taken her to the Domaine Forget Academy in Charlevoix, Quebec, where she played in masterclasses led by some of the world's leading trumpeters. Charlotte is also a passionate music educator and conductor. She has led trumpet workshops for young musicians and educators through the University of Toronto, the Hannaford Youth Band, and the Hannaford Brass Camp. Charlotte has also been a staff member at Canada's National Music Camp, where she taught trumpet for all levels from complete beginner to an advanced high school level. She has been praised for her sense of humour, and ability to make every student feel included. Lippert's welcomes Charlotte for piano and trumpet lessons starting September 2022.
< Return to Full Staff Directory
Why wait? Sign up today for the best music lessons in East York!
Still unsure? Contact Us with any questions.