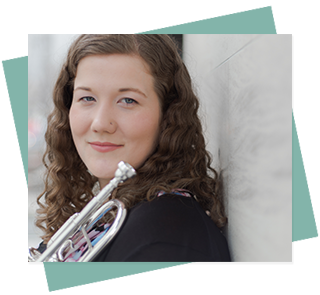 Carlene Brown | trumpet • piano • theory
Based in Toronto, Carlene is a thriving trumpet player and passionate educator. Carlene currently attends the Glenn Gould School of Music on a full tuition scholarship, where she studies with the principal trumpet of the Toronto Symphony Orchestra, Andrew McCandless. Carlene completed her Bachelor of Music in Performance from the University of Toronto, where she studied with Barton Woomert. She has worked with many incredible educators including Anita McAlister, Gillian MacKay, Uri Mayer, Colin Clarke and Jeffery Reynolds. Her dedication to her practice enabled her to perform for some of the world's greatest soloists and orchestral players, such as Håkan Hardenberger, James Thompson, James Ross, Karen Donnelly, Michael Sachs, and Andrew McCandless.
Recently returning from a tour of Germany and Scotland, Carlene has travelled all over the world with music. She's toured Shanghai, Berlin, Edinburgh, Los Angeles, New York and Vancouver—to name a few. Carlene has performed on the Chicago Symphony Hall, Walt Disney Concert Hall, Carnegie Hall and the Konzerthaus Berlin, one of the top ten concert halls in the world. Holding her Ontario roots close, she loves to perform with local orchestras, and has played with the Ontario Philharmonic, Etobicoke Philharmonic, Mississauga Symphony Orchestra, National Youth Orchestra of Canada, Toronto Symphony Youth Orchestra, Toronto Youth Wind Orchestra, University of Toronto Symphony Orchestra and the Royal Conservatory Orchestra. She is also an active pit musician, and soloist for several churches in the GTA.
Carlene began piano lessons when she was 7 years old. She studied and took exams from the Royal Conservatory of Music throughout elementary and high school. She attributes her musical efficiency to her early education in music. Since she values her training so dearly, Carlene greatly supports music education and has taught in a variety of settings. She holds masterclasses for high school and elementary school groups, as well as teaches private lessons for trumpet, piano and theory. Her dedication to both her performance and academia led her to receive many scholarships including, the Town of East Gwillimbury Award, W. Bramwell Smith Memorial Award, University of Toronto Scholar, Walter Homberger Scholarship, Arthur Plettner Scholarship, and a Full Tuition Scholarship to the Glenn Gould School of Music.
< Return to Full Staff Directory
Why wait? Sign up today for the best music lessons in East York!
Still unsure? Contact Us with any questions.