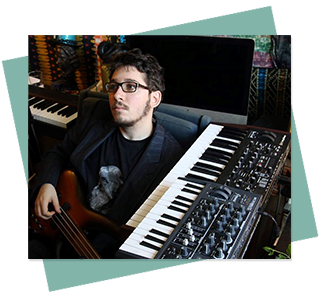 James Atin-Godden | piano • recording • drums
James began composing, songwriting, and improvising when he was very young. By the time he had graduated from York U, studying under music gurus like Casey Sokol, Steve Koven, Brian Katz, and Matt Brubeck, he had gotten pretty good at it. He has composed music for film, animation, theatre, dance, and song cycles and has collaborated with an Andorran producer on an hour long multi-media circus. He plays keys, produces, and writes for art-pop band Aniqa Dear, and plays bass in Ruby Cikada, and he has produced several albums for various artists.
James is a passionate creator and teacher of contemporary music. He specializes in all forms of pop/rock, experimental, and improvisational music. He has taught guitar and piano in his small of hometown of Kingsville for 3 years, and has since taught privately for the Canada Music Academy, Yellow Dog, Pegasus, and Lippert. He hopes to continue to compose, lead bands, produce, and teach for many years to come. 
< Return to Full Staff Directory
Why wait? Sign up today for the best music lessons in East York!
Still unsure? Contact Us with any questions.