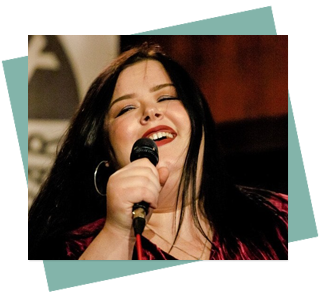 Jenna Marie Pinard | voice • piano
Jenna Marie has a great passion for building inclusive music communities and thrives to promote safe and equal opportunity for all through the students she teaches, the bands she leads, music she writes and jams she hosts.
At the vanguard of 'The New Jazz Generation' and freshly graduated from the University of Toronto's prestigious jazz studies program, Jenna Marie Pinard possesses a signature jazz and blues voice that hints at Ella Fitzgerald, Sarah Vaughan and Aretha Franklin, but is distinctly her own. She is best known for her smooth-sounding jazz and rich R&B vocals, her wide vocal range, and passionate performances. She is quickly gaining reputation in Toronto as a uniquely warm spirit and engaging performer. Originally from Montréal, Jenna Marie now lives in Toronto and plays all over the city, including a residency at "The Rex Hotel", Toronto's premiere jazz and blues venue.
Jenna Marie is a bandleader, arranger, songwriter, improviser and educator. She released a full length jazz album, "Here, Now", with guitarist and collaborator Jay Yoo in November 2019.
"Jenna Marie's vocals are tender and harmonic with a technique that is unforced and subtle" - Marty, The Jazz Music Blog
Let's learn, grow and have fun!
< Return to Full Staff Directory
Why wait? Sign up today for the best music lessons in East York!
Still unsure? Contact Us with any questions.