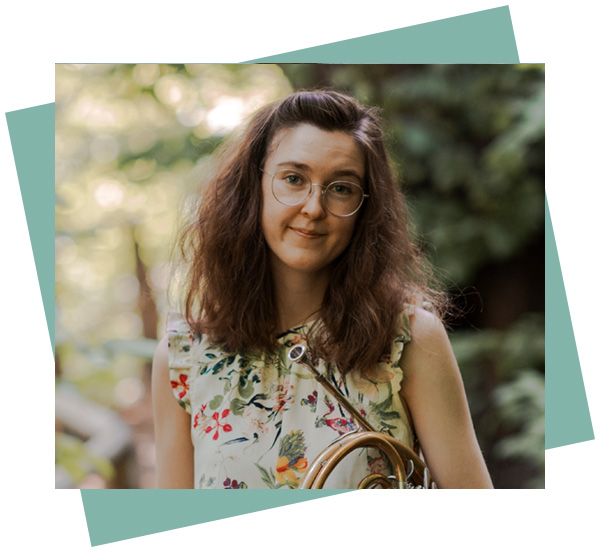 Lucy Nesbitt | mental health • piano • french horn
Lucy Nesbitt (she/they) is a settler of Toronto (Tkaronto, covered under Treaty 13). Her offerings to the music community are both in trauma informed music education for piano and French Horn, and mental health and wellness coaching, counselling and workshops. Lucy graduated from the University of Toronto with her Bachelor's Degreen with Honours in French Horn Performance, and has a Professional Counsellor Diploma, Life Coaching Certification and Life Skills Facilitation Certification from Rhodes Wellness College in British Colombia. Lucy is an alumni of the National Youth Orchestra of Canada, The University of Toronto Symphony Orchestra and the Toronto Symphony Youth Orchestra, and is an active freelance musician across the GTA.
Lucy has spent time working with the National Youth Orchestra of Canada, the Brott Music Festival, the Kawartha Youth Orchestra, the University of Toronto Brass Faculty and more offering workshops and counselling services. Lucy was also thrilled the present at the 2022 International Women in Brass Conference in Denton, Texas, on integrating a trauma informed approach to music education.
Lucy's dream is to bring modalities and tools from the wellness community into the music and arts industry in hopes to connect more students and professionals with effective support catered specifically to their unique needs. Lucy's own experience with mental health as an artists and performer guided them towards wanting to provide warm, empathetic and collaborative space to others in both their healing and their artistic pursuits.
For more information on Lucy's philosophy, practice and offerings, you are welcome to explore her website
www.resonantenergytherapy.com
and @resonantenergytherapy on Facebook or Instagram. For her musician specific blog and resources, you can find them at
www.musicianmindfulness.ca
and @musicianmindfulness on Facebook and Instagram.
Lippert's is proud to say Lucy joined us in Spring 2022!
< Return to Full Staff Directory
Why wait? Sign up today for the best music lessons in East York!
Still unsure? Contact Us with any questions.