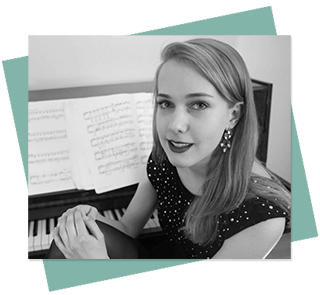 Maia Van Raes | piano • voice • theory • trumpet
Maia is a classically trained pianist with her Bachelor of Music in Piano from the University of Toronto where she studied with Andrew Markow and Brian McDonagh. In 15 years, she has performed classical compositions from Bach to Chopin, but also enjoys blues, rock and pop and their emphasis on improvisation. In addition to classical music she has performed in orchestras and pit bands for musical productions, such as Richard O'Brien's Rocky Horror Show and Disney's Beauty and the Beast, and most recently accompanied Toronto's Snowdrop Production's The Glass Cage.
Maia is the current keyboardist and back up vocalist for Toronto band, Sam Taylor and the East End Love, performing in Toronto and across Southern Ontario. She is also working towards completing her ARCT accreditation from the Royal Conservatory of Music. Maia focuses on building a strong technique and draws on a wide variety of musical genres to ensure her students remain motivated and engaged, no matter what their goals are. My goal is to help students become musically literate and confident in their playing, but also understand the value of expressing themselves through music.
< Return to Full Staff Directory
Why wait? Sign up today for the best music lessons in East York!
Still unsure? Contact Us with any questions.