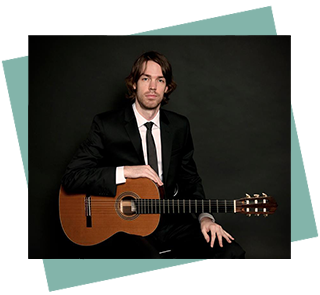 Michael Kolk | guitar • bass
Born in Vancouver, Michael has performed at music festivals and concert halls throughout Europe and North America and has been called "one of the most musical guitarists performing and recording today" (This is Classical Guitar). Liona Boyd has described him as "one of the most brilliant and expressive classical guitarists I have heard in my life".
A prize winner at numerous guitar competitions, he has released two solo albums to date, as well as two albums as part of the Henderson-Kolk Guitar Duo, and an album of Mauro Giuliani guitar duos with Jeffrey McFadden on the Naxos label.
His latest solo album, Mosaic, released by Alma Records, was praised as "playing and musicianship of the highest order" by Whole Note Magazine, and continues to receive frequent radio play in Canada. In 2016 the Henderson-Kolk Duo were selected as Prairie Debut artists, and will embark on a concert tour of central and northern Canada in 2017-18. Michael has collaborated with musicians in both classical and popular genres, and made his debut with orchestra as a soloist with the Toronto Philharmonia. He has also performed with the Canadian Opera Company, Opera in Concert, Tapestry Opera, and CineConcerts. Michael holds an ARCT performance diploma from the Royal Conservatory, and a Master's degree in guitar performance from the University of Toronto. In addition to performing, he currently lives and teaches in Toronto.
< Return to Full Staff Directory
Why wait? Sign up today for the best music lessons in East York!
Still unsure? Contact Us with any questions.