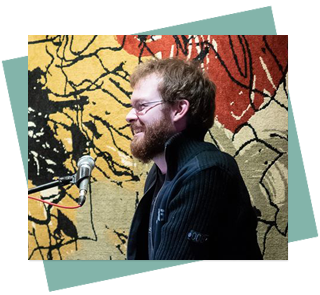 Nick Maclean | piano
Born in Ottawa, NICK MACLEAN is "one of the most gifted young Toronto pianists to come along in the last few years " (Adrean Farrugia, Juno winning jazz pianist) and has quickly become one of the most in demand 20-something piano players in that city's bustling jazz scene. Nick received his Bachelors of Music from Humber College in 2013, having studied with David Restivo, Bernie Senensky and Nancy Walker. He then went on to do a Masters in Jazz Performance at the University of Toronto researching synthesizer pedagogy while studying under David Occhipinti, Andrew Downing, Chris Donnelly and David Braid. Braid in particular had an enormous influence on how Maclean approaches playing and composing. From Miles Davis & Herbie Hancock to Weather Report & Snarky Puppy, Maclean's musical influences are diverse.
Nick leads two critically acclaimed ensembles, the funkified electric jazz group SNAGGLE and the hard-swinging modern jazz group NICK MACLEAN QUARTET. Both groups have released multi-award winning albums and with them Nick has toured right across Canada as well as internationally, performing for countless audiences as well as running jazz improvisation workshops for students and listeners eager to learn more about the artform.
Formed in 2016, the NICK MACLEAN QUARTET delivers jazz between the two poles of thoughtful introspection and powerhouse conveyance, taking influences from Herbie Hancock's primordial 1960's Blue Note era recordings, while paying tribute to some of the greatest improvisers in jazz history. The group released their debut album RITES OF ASCENSION in November 2017 which was featured as one of the Global Music Award's 'Top 5 Albums of Spring 2018', was nominated for CJSF's 'Julian Award of Excellence' and won a 'Gold' Global Music Award in the 'Jazz' category.
Maclean also leads the multi award-winning, groove-based, electric jazz project SNAGGLE, a group with a fearlessly muscular yet introspective sound likened to a cross between 'electric-era Miles Davis' and 'Rage Against The Machine'. SNAGGLE's uniquely brash and infectious brand of jazz-funk is a melodically driven sound which incorporates primal groove qualities more commonly associated with pop and rock, swinging their live show from quietly contemplative all the way to explosively fierce - sometimes all within the same tune. Their latest release THE LONG SLOG was awarded a 'Gold' Global Music Award, a Toronto Independent Music Award and a nomination in the international Independent Music Awards for 'Best jazz/funk/fusion Album of the Year'.
Considered a protege of "Canada's pre-eminent jazz trumpet player" (NYC Village Voice) the highly decorated BROWNMAN ALI (GURU, Beyonce, Jay-Z, Quincy Jones). Nick is signed to Brownman's NYC-based jazz record label BROWNTASAURAS RECORDS where he now works as a label manager in Browntasauras' Toronto offices. Nick and Brownman are collaborative partners across numerous musical endeavours including both of Nick's ensembles where he features Brownman as his star trumpet player. The future is bright for this young visionary as he continues his upward ascent in jazz art forms of all shapes and sizes.
< Return to Full Staff Directory
Why wait? Sign up today for the best music lessons in East York!
Still unsure? Contact Us with any questions.