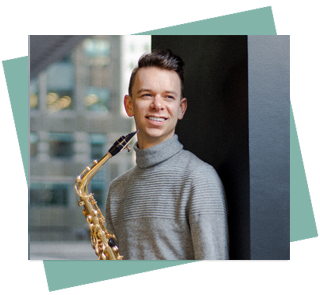 Nolan Sprangers | saxophone ● theory
A recent graduate from the University of Toronto, Nolan has a Bachelor's Degree in music history and theory, with a specialist in music history and minor in religious studies. During his undergraduate, Nolan studied with saxophonist and composer Rob Carli and played in several large and small ensembles. In addition to performing, Nolan was a finalist for the Rhodes Scholarship at Oxford University, held a research fellowship at the Jackman Humanities Institute, and was a recipient of the prestigious William and Phyllis Waters graduating award. In the Fall of 2020, Nolan will begin his Master's degree in musicology at the University of Toronto with funding from the Social Sciences and Humanities Research Coalition. His research focuses include Stravinsky's neoclassicism, musical settings of the myth Orpheus, and repertoire for wind ensemble.
Nolan has been playing piano since the age of 7 and saxophone since the age of 13. He has been teaching for five years and uses his knowledge of practical skills, history, theory, and ear-training to create individualized lesson plans that teach students how to play, talk, and think about the repertoire they are learning. Nolan believes an important part of teaching is introducing students repertoire outside of the standard classical canon, and allowing students to find repertoire that represents themselves as an individual.
< Return to Full Staff Directory
Why wait? Sign up today for the best music lessons in East York!
Still unsure? Contact Us to book your free consultation or with any questions.