We are proud to work with over 35 of the most professional, experienced and qualified music teachers in Toronto! We value the music education of our students, and our teachers.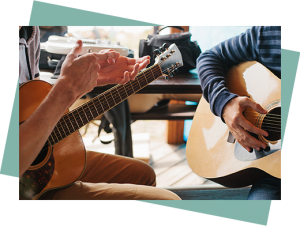 At Lippert, we only work with the most professional, experienced and qualified music teachers in Toronto. Our teachers are talented musicians with experience teaching all genres including classical, jazz, rock, blues, pop and more! They have experience in music education, performance, composition, improvisation, and audio engineering. On almost any given day, one of our teachers is out and about in Toronto making incredible music! All of our teachers are qualified with one, or several, post-secondary degrees in music and/or education. Furthermore, our classical teachers have additional Royal Conservatory of Music accreditation. Lippert teachers offer lessons in guitar, piano, voice, strings, woodwinds, brass, and more. If your instrument is not on the list, contact us and we can connect you with a teacher for your instrument. Our teachers are the heart of our school and have contributed to the success of our music school since 1957.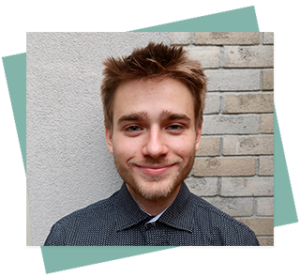 Nick Donovan | drums • piano
Nick Donovan is an up and coming drummer and composer, currently studying jazz performance at the University of Toronto. Music was a prominent part of Nick's upbringing in a family of professional musicians; he began playing the piano at the age of 5 and has been playing the drums for over 10 years. Nick started gigging on the Toronto rock scene in high school, before branching out into other styles such as jazz, soul, funk, and hip hop. Nick was the recipient of an entrance scholarship to UofT, as well as the 2017-2018 recipient of the Richard Iorweth Thorman Jazz Scholarship. He can be heard performing at a variety of music clubs around Toronto, Montreal and Ottawa, as well as esteemed jazz festivals across Ontario. Nick brings his creativity, musicality, and professional performance experience to any playing or teaching setting. ​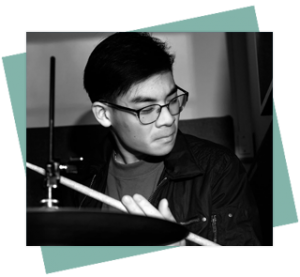 Evan Ng | drums • piano
Evan is an award winning multi-instrumentalist originally from Vancouver, BC and has been studying music since 2006 when he was 7 years old. In 2015, Evan completed his Grade 10 Practical Piano Exam in with Honours from The Royal Conservatory of Music (RCM) under the guidance of his piano teacher, Carrie Leung. He is an accomplished and passionate jazz drummer who has studied with Jessie Cahill and Ernesto Cervini. Evan is currently an undergraduate student in the Bachelor of Music Performance, Jazz program at the University of Toronto.
"More"
Evan was the recipient of the 2017 TD High School Intensive Scholarship from the Vancouver TD International Jazz Festival. Evan performed in a jazz quartet that scored the highest on a combination of video submission and live performance, and took home the top prize at the 2019 Jazz Sudbury Emerging Artist Showcase competition in May. Evan is also proficient on the guitar, ukulele, bass, and other percussive instruments and is an avid music producer. Although mostly inclined towards the jazz idiom, Evan is versatile in composing, and producing music in the funk, R&B, hip-hop, soundscape, and contemporary worship music genres. From 2014 – 2017, Evan has been a private music instructor and mentor, teaching in his home studio and leading workshops and music camps in Vancouver. He worked as a drum teacher assistant to Jessie Cahill, Jodi Proznick and Bill Coon at the VSO School of Music - Summer Jazz Workshops in Vancouver in 2017 and 2018. Since 2017, Evan has taught drum students at the Kollari Institute of Music in Vaughn and has worked at Lippert Music School in Toronto. Since moving to Toronto in 2017 to study jazz at the University of Toronto, Evan has been active in the scene, performing at places such as Hart House, The Rex, TRANZAC, Alchemy, The Emmet Ray and venues in Sudbury and Ottawa.
"Close"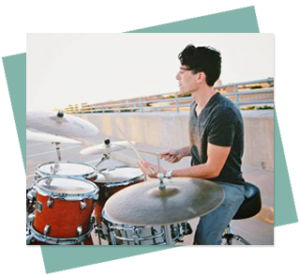 Andrew Scott | drums • percussion
Andrew joined Lippert in the fall 2016 and is a touring/recording drummer and percussionist formerly based out of Edmonton, Alberta. His sense of time, taste and his professional attitude affords him the opportunity to play with many great artists across a multitude of musical genres. Recently Andrew has been performing live with Hannah Kirby from Season 8 of "The Voice." After hearing him play live, Hannah asked him to play on her forthcoming album "Fire in my Soul."
"More"
He also played in the pit orchestra for the Dallas Theater Center's musical "Staggerlee." He is comfortable in many different musical situations and as such has been called to play: Small group jazz, Big Band Jazz, Top 40's Bands (with and without click Track), Contemporary Christian, Fusion, Funk, Soul, R&B, Afro-Cuban, New Orleans Second Line parties and funerals, Cumbia, 1950's Rock and Roll, et al. This is just a small sampling of the playing opportunities Andrew has had while living in Texas and doesn't do justice to the experience he has gained from maintaining his busy gigging schedule. Other highlights include playing a show on the field of Dallas Cowboy's AT&T stadium and playing with vocalist Phil Crosby, grandson of Bing. Andrew graduated from the University of North Texas with a undergraduate degree in Jazz Studies in 2014. During his degree he studied with world renowned drum set instructor Ed Soph. He moved from Edmonton, Alberta to study at UNT and his own teaching style and musical philosophy has been highly influenced by Mr. Soph. Andrew has been teaching drums and percussion privately for 8 years and has found equal success teaching those who have been playing for years or someone who has never played a note in their life. Recently, Andrew has been coaching Jazz Combos from the Greater Dallas Youth Orchestra made up of students aged 12-18. Regardless of the teaching situation, Andrew's philosophy is to focus immediately on making music with others which always ensures the students have fun in lessons.
"Close"
Why wait? Sign up today for the best music lessons in East York!
Still unsure? Contact Us to book your free consultation or with any questions.