It's going to take more than a global pandemic to stop the music.
In early March when the coronavirus pandemic was at its peak, numerous videos went viral across social media in which musicians and singers in Italy were seen sharing musical performances from their balconies.
Since then, musicians worldwide were forced to adapt to social distancing regulations by flexing their musical muscles online. Music teachers had to re-think their strategy to provide effective music lessons for students while being apart.
For some areas of business, taking their expertise online has been challenging. For music lovers and teachers alike, new challenges brought upon new opportunities.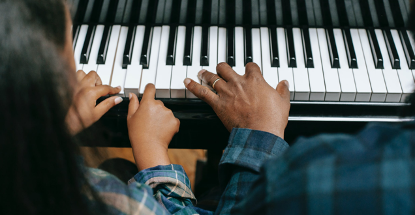 Because so many people have had free time to learn a new hobby or rekindle an old passion, many turned to music. This led numerous Canadian stores to see a significant spike in purchases of musical instruments.
Although adapting to teaching music online was challenging at first, music teachers have embraced technology such as Zoom to keep their business alive and share their passion with so many eager students. There were some students that had to discontinue due to this change, causing some financial challenges, however, on the flip side, teaching music online is a great way to reach out to a new demographic of people who may not have had the time to learn music before the pandemic.
Online lessons are a great way to fill your time because it will allow you to practise a new skill while releasing endorphins from the sound of music. This can put you in a more positive frame of mind. Personalized online lessons will allow you to learn from the comfort of your own home with more convenient times in place to schedule a lesson. Less time spent on commuting to and from real-life classes also means that there's more time to find creative ways to play and practise at home.
Thanks to social distancing, both students and veteran musicians have brushed up their musical skills. Many music teachers have commented on how much better their students have been doing since March 2020. Artists are now performing live streams for their fans on Instagram and Tik Tok, and with extra time on their hands, many artists were able to create entire albums for fans during quarantine. We encourage fans to purchase music produced by your favourite artists to help support them.
There's no doubt that the global pandemic has changed people's lives all over the world, but at least one silver lining was found for many during the hours spent at home and that's sharing the joy of music.