Former Lippert Music Centre guitar teacher Sean Kelly, performer and music authority has a new book out, chronicling the rise and fall of what is affectionately called 1980s "hair metal." Karen Pace, an uber-fan who used to work as a journalist, publicist and tour manager in the music industry, in addition to being a Lippert Music Centre adult bass student, gives us a review of what to expect. Sean currently teaches music with the Toronto Catholic District School Board and tours with Lee Aaron, Coney Hatch and others. He can be seen throughout May in the Toronto production of the '80s musical homage Rock of Ages at the Elgin Theatre.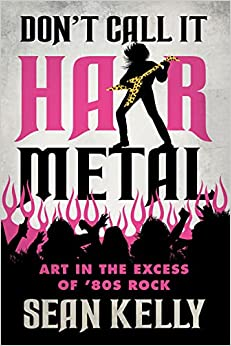 DON'T CALL IT HAIR METAL: ART IN THE EXCESS OF '80s ROCK
Written by Sean Kelly; Review by Karen Pace
Canadian guitarist, music teacher and author Sean Kelly has a second book out, focusing on his indignity at "hair metal" being used as an overarching term for the style of music that dominated radio airwaves in the 1980s. A product of the '80s school of rock, Kelly writes 302 pages arguing why that era of bands should be hailed with more respect and not referred to using a cartoonish moniker that dismisses them as kitschy.
Kelly's prowess as a musician means that he is able to be minutely technical when dissecting the sound of this particular ten-year block of music-making. His professional knowledge of guitar-playing terminology ("two-finger tapping," "classically-inspired arpeggiated guitar," "in and out in eight bars" to name but a few) is dizzying for a non-guitar player reader, but it certainly makes one respect his authority on the subject. Being a guitarist, Kelly bases his theories about how hair metal evolved into the lump-sum name that most listeners now use for it, by focusing on the guitar sound of the bands he hails as cornerstones of '80s rock.
The timeline of influences that came before the evolution of hair metal and what happened in the '90s after it are deftly laid out. With the help of key players from the '80s whom he interviewed for the book, Kelly alludes to the history of music as changing regularly in ten-year cycles, dependent on the zeitgeist of the youth at the time. He posits that the tall, super-sprayed, dyed hair of the epoch — hence the misnomer, or maybe the perfect nomer? — was a natural evolution following punk, disco and soft-rock of the '70s. North American bands, as well as Swedish, Danish and German offerings, followed on the heels of what Kelly terms the New Wave of British Heavy Metal in the late '70s, to incorporate more outrageous wardrobes, more make-up, more hair, more sex and more drugs. Maybe it should have been coined "more metal" instead of just defining it by one of those features, the hair?
He presents an excellent case that technology had a big hand in the big-hair bands' success, as groups embraced higher amp gain and started customizing guitars. He also explains for the casual music fan how crucial certain producers like Bob Rock, Bruce Fairbairn and John Kalodner were in creating the monster hits that ended up being called all kinds of metal over the years, not just hair metal. Kelly's knowledge of band members, family tree timelines of players moving between groups, and the back-story of how albums were recorded, is encyclopedic and just plain impressive. This reads more like an excellent history of this era in music, than a strong case for or against the use of the term "hair" when describing it.
It's rather fitting that, shortly after writing this book about his passion for '80s hair metal pop rock — no need to pick one when you can use all of them! — he landed a role as one of the two guitarists in the house band for the latest Toronto run of the show Rock of Ages, which pays homage to 23 of what the show refers to as glam metal bands. Ah, there's another one to insert in the moniker above!
Rock of Ages is called a "jukebox musical," with the story or book being written by weaving it around, through and about popular songs. That means that hair metal was so popular and ubiquitous (it still is!) that a musical was created to satiate a wide audience, who remember it nostalgically from their younger days in the '80s. Whatever you want to call it, this specific style of music not only holds a very special place in Sean Kelly's heart and personal history, but judging by the success of 18 years of a musical celebrating 30 songs from "the excess of '80s rock" touring all over the world, fans are happy to continue listening to it 4 decades on.
Purchase the Book: ECWPress.com | Amazon.ca